Founding member
David Lanigan
plays both Scottish Lowland pipes and smallpipes (bellows-blown bagpipes with three or four drones in a common stock), Scottish Highland pipes, whistles (commonly called tin or penny whistles, although they are not currently made of tin or cost a penny!), Irish tenor mandola and Irish Octave Mandolin (four-course stringed instruments in the low end of the mandolin family), and Irish dulcitar (a cross between a mountain dulcimer and Irish bouzouki).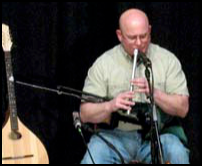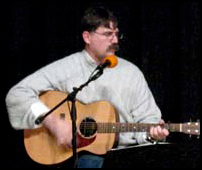 Troy Hanford
plays guitar (either a McMartin or MacMartin, depending on if he's playing an Irish tune or a Scottish one) and sings lead vocals and occasionally backing vocals.
Mike Day
plays bodhràn (Irish frame drum), snare cajon, and shaky egg. He also sings backing vocals and occasionally lead vocals.