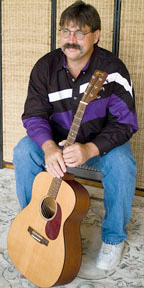 TROY HANFORD
brings over 21 years experience playing country, rock, and blues guitar. He also plays mandolin, bass guitar, fiddle, and steel guitar.

At age 16, Troy formed the four-member country band "Badger Mountain Boys" in which he was lead vocalist and lead guitar player. This band played at harvest dances and high school rodeos.

Several years later, Troy's love of Celtic music manifested itself and currently has influenced him to learn to play the Highland bagpipes. Troy finds Celtic music challenging, but immensely rewarding.

Troy answered David Lanigan's "musicians wanted" ad in March 1999 and they started the foundation of the band Skweez The Weezle at that time.


Click to send email for
Troy
.